Skyeye.


He's the elder of the two.
Skyeye's the in-control guy, and is also the guy that people usually encounter.
He has his head up in the clouds most of the time, and daydreams a lot.
His ego is colossal, and he generally acts like an asshole–but what an entertaining asshole he is.
He is an extrovert (well, more of an extrovert than Vincent, anyway).
He is also quite a pig, for a thin person–especially when it comes to food and personal hygiene.
He is a big fan of mechanical stuff or electronic stuff, like computers and robots.
His memory sucks (abominably so, having forgotten stuff that merely happened minutes ago before).
His outlook on life is positive, and he's usually optimistic (in fact, I have yet to see him down).
He has a very short attention span, and sometimes always acts like he has ADD.
He is extremely lazy, and is the sarcastic one.
He is also a bit self-centered, and can be a bit inconsiderate at times.
He rarely dreams (when he does, he dreams about random stuff).
He has a habit of doing stupid, irrational things for no reason at all (like downing a cup of vinegar in one go), but presumably it's to gain attention.
He is also the one responsible for most of the flatliner posts on this blog, like the surveys or music video posts.
He's generally good-natured and civil, but he can also be cruel and insulting sometimes.
He's very childish and rarely makes an effort to grow up.
Oh, and he pays almost no attention to his appearance, preferring to wear comfortable clothing regardless of anything else (this is why he wears slippers most of the time).
Vincent.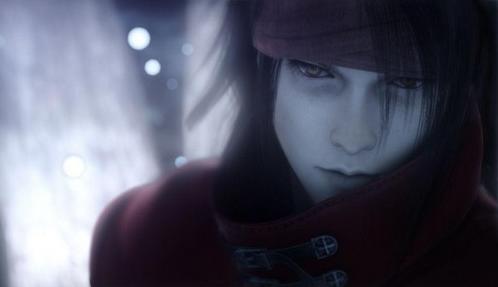 He's the younger brother of Skyeye.
Vincent is rarely seen by the rest of the world, but when he takes over, he acts very differently from Skyeye.
Named after the character from Final Fantasy VII, he is the one people see when they meet me for the first time.
He is emo most of the time, but on a good day, he's just mushy.
He is an introvert (but can open up to a special few people).
He philosophizes at the oddest times, and would remember his musings if Skyeye wouldn't take over right away and promply forget what Vincent was thinking about.
His memory is a lot better than Skyeye's (he can remember things he experienced as a child).
He is also more patient than Skyeye, and also has the gift of quiet persistence.
One of his major flaws, however, is his habit of falling into fits of emo-ness and staying inside his shell (which only few people can get him out of).
He is very trusting to the point of being naive and gullible sometimes.
Unlike Skyeye, he would rather write or read than play games (and so he is the one that writes most of the blog entries, except for the flatliners), and also happens to be more verbose and eloquent.
He's more mature than Skyeye–but he's very vain, often spending quite some time in the bathroom checking (sometimes waxing) his hair and fussing over clothes.
Recently, he's taken to writing fiction, usually about him and Skyeye, and their hypothetical adventures.